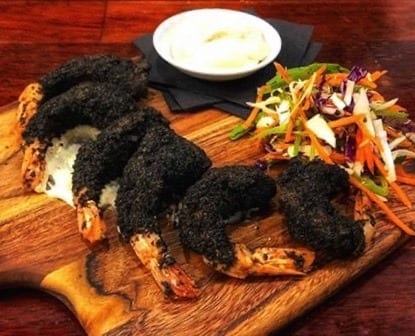 What to do on a Friday night in Mildura
After work Friday night, I decided I would sit for awhile at Fossey's Ginporium enjoying one…oh OK….maybe three tasting paddles. I was child free and came to the conclusion that a night out was definitely in order. 
I got the ginspirational tasting paddles because at just $20 each, I believe they are a gincredible deal whilst at the same time giving me an array of speciality gin's to tantalise my taste buds and warm my insides! 
As I was sipping away at my tipple, thoroughly enjoying the Friday night chilled gin vibe, my eye was caught by the food menu that's available during Friday sessions.  Looking a little closer, I discovered that there were not only an array of ginsational beverage delights but also food delights as well. Honestly, what more could a girl in the big city of Mildura ask for? Fabulously friendly atmosphere, gin paddles tantalising my taste buds along with delectable culinary delights! I was in foodie and ginnie heaven! 
Feeling a little peckish after a hard day in the office, I decided upon the panko prawns with salad and Aioli sauce. My mouth was watering as I ordered it and I could hardly wait for it to arrive – seriously I was that hungry! 
I think I was just one gin down before my delightful dinner arrived which was prepared by the amazingly talented people at Gourmet Chef! It looked stunning and I satisfied my ravenous hunger by wasting no time in getting started devouring the ginious creation. I can tell you I was not disappointed. I am not exaggerating in the slightest, when I say, it was the highlight of my day and as soon as I had finished my last mouthful, I considered whether or not it would look really greedy of and a bit piggy like to order a second lot. Deciding it wouldn't look very classy like to devour another plate of prawns, I settled on another gincredible tasting paddle with Hot Cross Bun gin, Naval Strength (woo this one is deliciously lethal) and Old Man Saltbush with the low sugar version of Fever Tree Mediterranean Tonic because it's lower in calories – always thinking of fitting into the all important jeans! 
My sister joined me for a catch up a little while later and we had a fabulous time, enjoying the ambience of Fossey's, where it's quiet enough to talk to one another and unwind after a super hectic week of children and work.  
If you are looking for what to do on a Friday night in Mildura, a place to unwind on a Friday night with deliciously tantalising food, then Fossey's definitely is the place to be. 
Bottoms up & chin chin, gin lovers!
Until next time,
Fossey's Ginspired Blogger Girl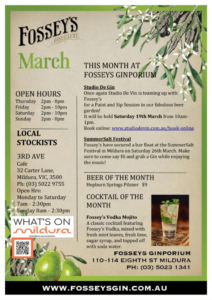 This month at Fossey's Share on facebook Facebook Share on linkedin LinkedIn More to explore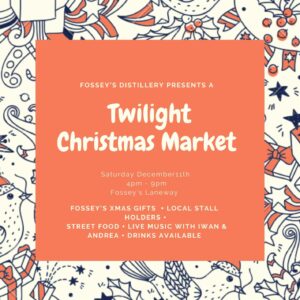 MEDIA RELEASE – Post COVID events starting to come back! Share on facebook Facebook Share on linkedin LinkedIn Fossey's Distillery presents their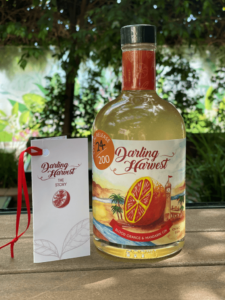 MEDIA RELEASE & Launch Invitation – Darling Harvest Gin Share on facebook Facebook Share on linkedin LinkedIn Mildura Community Water Bank Media