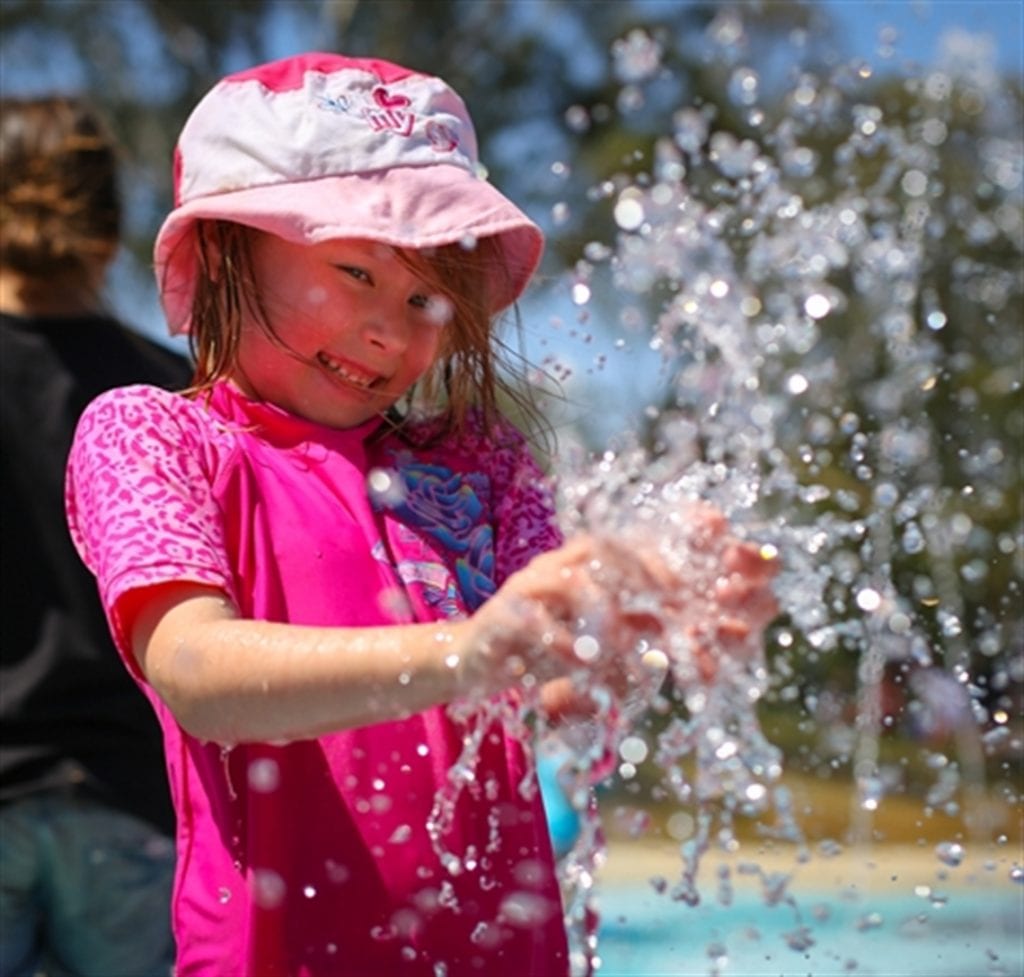 There are so many things to do with kids in Mildura and the Sunraysia area I thought I might do an article for all our Fossey's parents listing all the fun things in our area that will keep your children entertained, help you enjoy some peace (hopefully) and make the most of the beautiful weather we have here.
Here are my best tips for things to do with kids in Mildura during the Christmas school holidays:
This one is a beauty! Pictured above it is set by the picturesque Murray River this play park is so much fun for the kids. My children absolutely love splashing around in the sun and I absolutely love being able to relax whilst they are safely having fun! Not only is the view lovely, but there is also plush lawn to cop a squat on and shady areas, which make it much more pleasant to stay cool in the Mildura heat. Best part about this activity is it is FREE! During daylight saving it's open 10am to 9pm daily.
Hugh King Drive, Mildura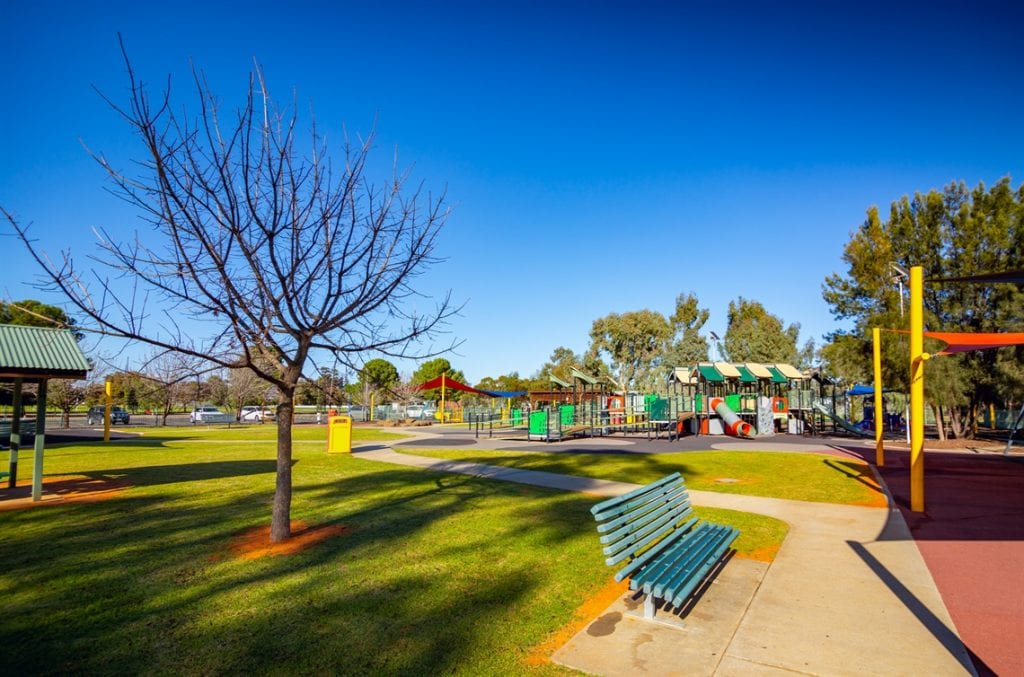 An incredibly fun park for all children but this one also caters extensively for children with special needs. As a Mildura parent of children with special needs this park greatly appeals to me because it is enclosed. The park also has a wheelchair friendly swing. It is an excellent Mildura activity for toddlers as well because it is so safe. No chasing down children who decide it is time for mummy to have her daily exercise. There is play equipment specific to age groups meaning all your children (yes even teenagers will find some joy in this park). It is FREE thing to do in Mildura with kids which is of course appeals so much more than activities that chew into the budget. For a cheaper lunch option there are BBQ's and eating areas too.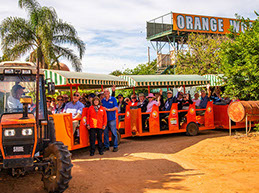 You are not going to believe how much fun this place is for adults and children alike! Even the cynical male my children and I were with loved this place. A brilliant family-owned business dreamed up by Mario and Maria. Mario took us on a tractor train tour of the orange farm, and it was hilarious. He has such a lovable nature and my Mildura kids really warmed to him. They did not stop smiling and laughing the whole way around the farm. This activity is relatively low cost but extremely good value for money. There are delicious goodies you can purchase when you have finished your tour too! I highly recommend this one! Do yourselves a favour and check it out. You will not be disappointed.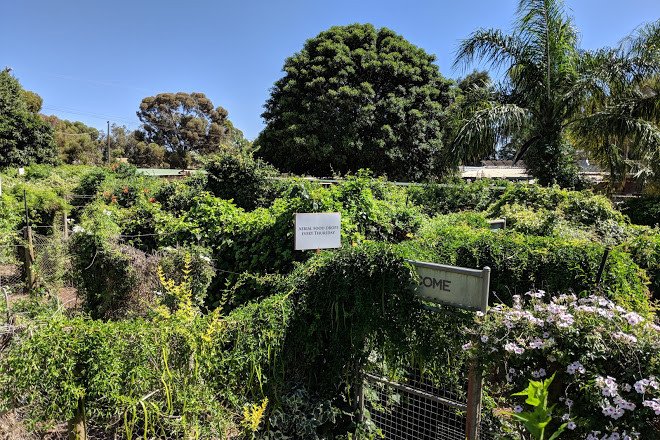 Not just a gem shop! This is so much more, and the kids will LOVE it! This family-owned business is a child's paradise. It has a super fun garden maze that keeps the kids (and adults) occupied for ages, an Aladdin's cave display of gemstones and interesting artifacts from all over the world. My children and I can spend literally hours checking out all the a-maze-ing (see what I did there) things at Woodsies! This is another low-cost activity for the children and parents to do in Mildura. It is open 7 days a week from 9am to 5.30pm. No need to book. Just turn up. Oh, and you can grab a bite to eat whilst visiting from the extensive and kid friendly menu on offer.
516 Cureton Ave, Nichols Point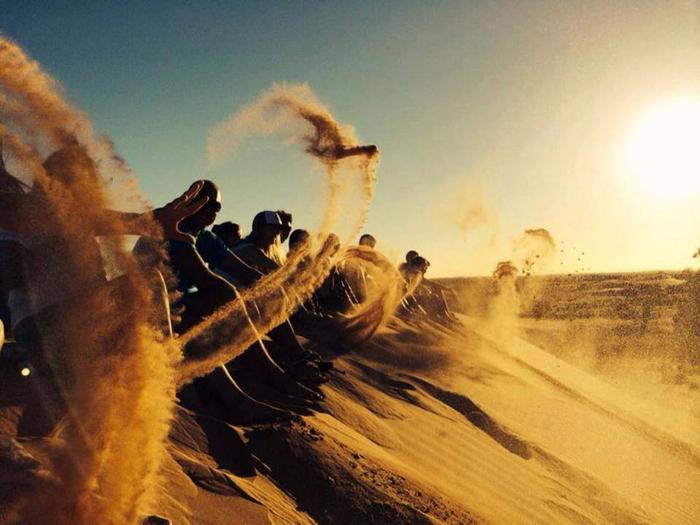 Ok so this is another one that is not actually in Mildura, but it is close enough. It is also FREE which makes it even more attractive! Make sure you include this one to explore because it is a fantastic location for a family picnic or outing. It really is a natural adventure park offering a great deal of fun for young and old alike. And if you are feeling extra adventurous you can hire out a sandboard from Intersport Mildura to sleigh your way down the hills for just $20 per board per day. Otherwise, improvise with a yoga mat or the like. With or without the sledding, it is a lot of fun for all the family. My biggest tips are to wear sun protection, take loads of water and wear sunglasses because it gets mighty hot and bright out there.
6km west of Wentworth on Renmark Road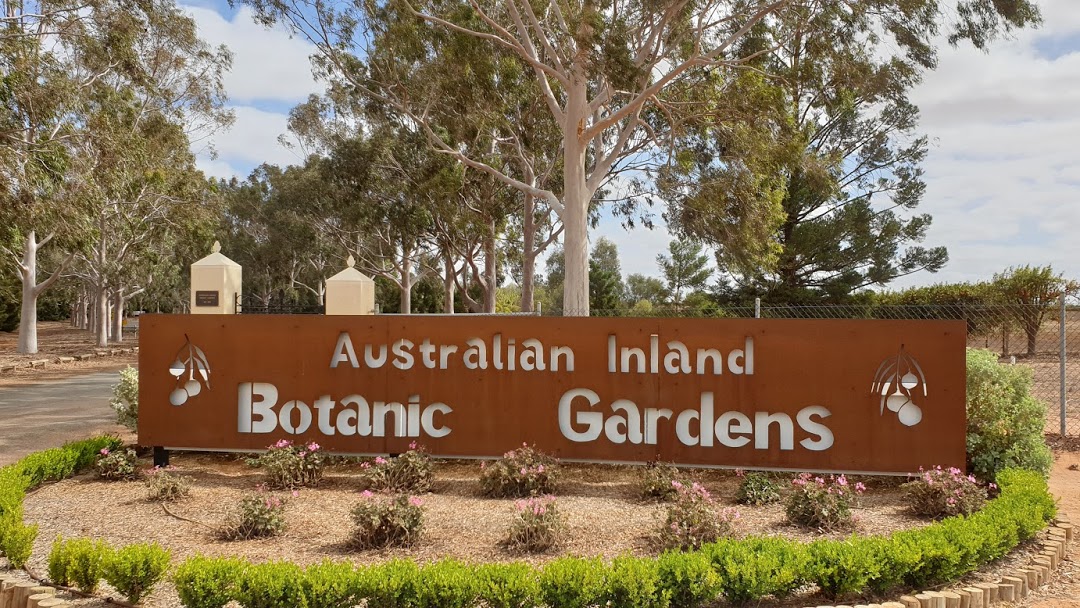 Another surprising little gem just over the bridge in NSW is the Botanic Gardens. Now you might be thinking (like I was) how on earth could this one makes the list for things to do with kids in Mildura because it must be super boring, but you would be wrong! It is a lot of fun and FREE place to visit! The Children's Garden is perfect for toddlers and children alike. Take water, sun protection and some snacks because your little ones will spend a bit of time checking it all out.

This park has an activity tower with sky soaker, 3 water slides, mega soakers, spin sprays, splash blasters, water leaves & ground sprays and a double enclosed waterslide with wave catchers! It is a wonderful to see the delight and hear the squeals of joy from the kids playing outdoors in the sunshine. The only reason this one did not rate higher up the list is because it is not always available to the public. Priority is given to the park guests. However, it is heated so you can even go on colder days. It is $15 per person for 2 hours from 10am to 4pm. I recommend sun protection as there is no cover over the water park. To check availability or book in call 5023 3375.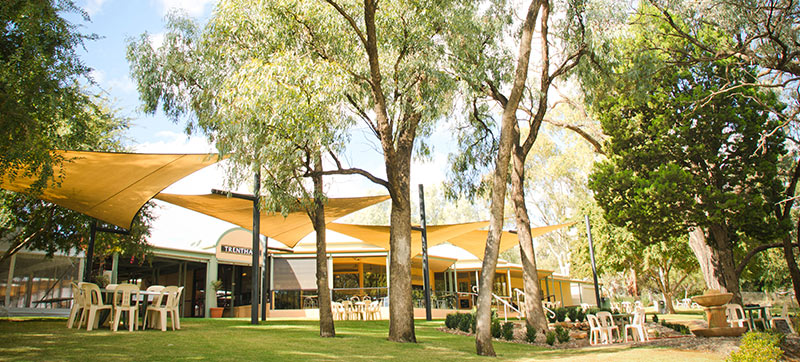 About 15 minutes across the bridge is this stunning winery estate. Now I know it seems like a strange one to put on a list of things to do with kids in Mildura, but this is an activity adults and children will enjoy alike. Picture yourself enjoying a beautiful glass of wine or 3 whilst the kids play on the grassed area around the estate. There are many tables and chairs under trees, overlooking the stunning Murray River. So, pack the family a picnic, water and some ball games. The kids will love running around and playing games. Meanwhile, you can kick back enjoying the serenity and a glasses of the classical wines Trentham has to offer. You could even build your own platter from 10am to 5pm daily.
6531 Sturt Highway, Trentham Cliffs
There we have it, folks. 8 things to do with kids in Mildura during the school holidays. Remember, a fabulous Fossey's G&T, is the best way to wind down. Your kids are welcome to join you at the Distillery after days of making memories, checking out the beautiful place we are proud to call home. Pop in to see us at the distillery from Thursday to Sunday 2pm to late-ish.
Cheers,
Narelle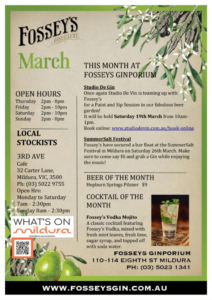 This month at Fossey's Share on facebook Facebook Share on linkedin LinkedIn More to explore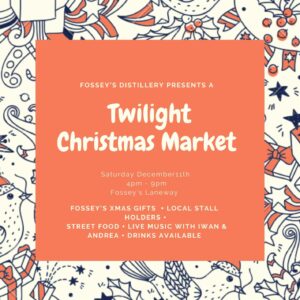 MEDIA RELEASE – Post COVID events starting to come back! Share on facebook Facebook Share on linkedin LinkedIn Fossey's Distillery presents their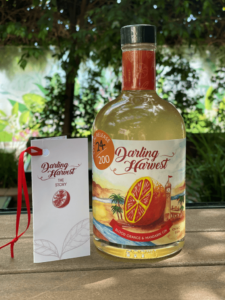 MEDIA RELEASE & Launch Invitation – Darling Harvest Gin Share on facebook Facebook Share on linkedin LinkedIn Mildura Community Water Bank Media