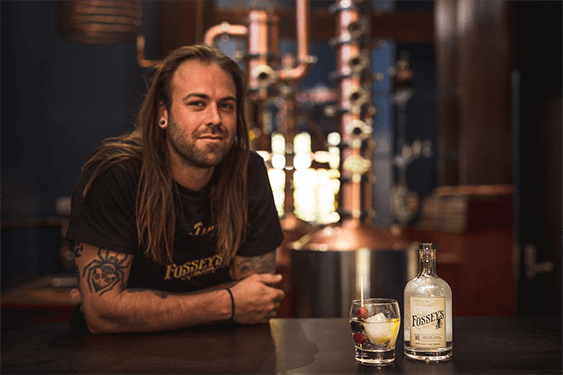 Media Invitation
(yes, a genuine one. We'd really love to see you!)
"A Launch of Festivities – a prelude to the Salt Lake Sunset Dinner"
Fossey's Gin and Friends invites you to welcome last seasons Masterchef contestants Sam Goodwin, Arum Nixon and Samuel Whitehead back to Mildura as they prepare to embark on the heroic chef-y journey of showcasing our regions finest produce in one epic menu.
A casually delightful event to officially launch the Salt Lake Sunset Dinners, this is your opportunity to schmooze with the guys, take some fabulous pics, write some glorious words all whilst sipping some absolutely delicious Gin.
Where: Fossey's Ginporium
110 Eighth Street Mildura
When: Wednesday March 14th 2018
Time: Doors open at 5pm with official proceedings at 6.30pm.
Media Release
A LAUCNH of FESTIVITIES – A PRELUDE TO THE SALT LAKE SUNSET DINNER
Having sampled our Sunraysia wares, Sam Goodwin, Arum Nixon and Samuel Whitehead are stripping their 2017 Masterchef ties (although we'll still use it for marketing purposes oh ho yes we will!) and are stepping into their own limelight to create a truly magnificent meal of epic proportions showcasing all the gloriousness our region has to offer!
Bringing two fabulous evenings of dining to the breathtaking Murray River Salt pans, the dates of March 16th and 17th will go down in Mildura culinary history.
The valiant trio along with Murray River Salt and Fossey's Gin, will officially launch the "Salt Lake Sunset Dinner" festivities at Fossey's Ginporium on Wednesday March 14th 2018, doors opening to the public at 5pm with official proceedings from 6.30pm.
In the true spirit of locals supporting fabulous local events, everyone is invited to welcome Sam x2 and Arum back to Mildura by sashaying along to
Fossey's Ginporium to enjoy a few tasty tipples whilst schmoozing into some photos or simply enjoy soaking in the atmosphere.
A casually delightful event that deserves a double reminder set into your phone.
For ticketing information to the "Salt Lake Sunset Dinner", please contact the Mildura Visitor Information Centre
End Release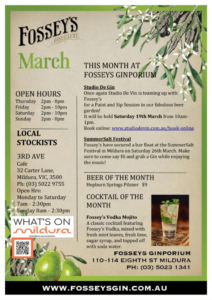 This month at Fossey's Share on facebook Facebook Share on linkedin LinkedIn More to explore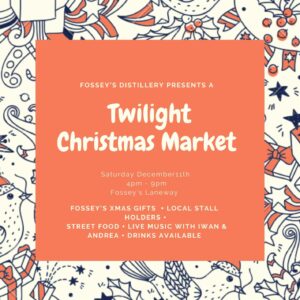 MEDIA RELEASE – Post COVID events starting to come back! Share on facebook Facebook Share on linkedin LinkedIn Fossey's Distillery presents their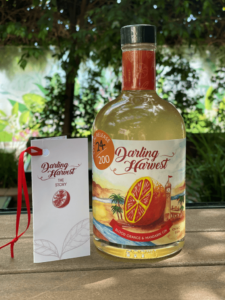 MEDIA RELEASE & Launch Invitation – Darling Harvest Gin Share on facebook Facebook Share on linkedin LinkedIn Mildura Community Water Bank Media