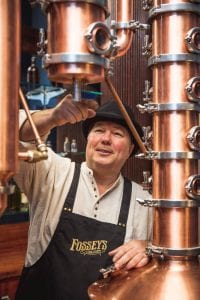 Where it all started
Fingers crossed the Distillery will be open again soon! We are all looking forward to it. But, until it does and we get to socialise together, I am going to tell you the tale of the fascinating tale of Fossey's history & how it all started!
Grab a G&T, make yourself comfortable and relax into the story how Mildura got it's very own Distillery…
The Fossey name was married into the family in the early 1900's and as was tradition then, it was given as the middle name to the first-born son John Fossey, known to everyone as "Foss".
A name that stood out, those who have it as their own have been of creative mind. Of pioneering spirit. Of being eloquently misunderstood and proudly so.
Fossey's have lived by principles and ideologies that have been passed down through generations and become known as Fosseylosophies which we have based our Fossey's Gin business principles on.
Bite off more than you can chew, then chew like crazy.
Foss's Grandmother, who he never met, raised 6 children alone, while running a pub in Ludlow, the area where our Fossey's Gin Juniper berries come from. One son, Albert, migrated to Australia and married Elsie Vera. Small
in stature but big in spirit nothing would faze her. Bringing up 4 children (one of them Foss) in Koorlong before established roads and power, Elsie rolled up her sleeves and got on with the job. Growing up in the sticks, Foss thought the best things he had ever seen were running water and knives with a serrated edge. Were these the things to ginspire big ideas and Fosseylosophies?
Who knows? His execution of big ideas could be somewhat erratic at times and misguided at best, but Foss was an original entrepreneur. Pioneering land well outside of Mildura and of otherwise no use, Foss went on to create something that is still an icon of Mildura today –Timmis Speedway.
Not stopping there, along with his young family, Foss farmed a property in Mourquong. Growing fresh fruit still to this day, this particular block is where our Fossey's Original Gin Elixir bergamot oranges and tangelo's are grown.
But how does Foss fit in with Fossey's Gin?
Father to our Master Ginnovator, we are bought to the present day where the pioneering spirit and big ideas are as strong as ever, only perhaps with a slightly more straight forward strategy to implementation, the fundamentals of Fosseylosophies live on in our approach to developing something truly unique.
Why gin? Why not?
It encompasses everything we want to represent.
First class second to none products.
Creative interpretation of, well, everything.
Good fun, good times, good friends, good drink.
Big ideas in a small space with a deadline of yesterday.
And family.
This fascinating tale of Fossey's was originally written by Cherie Gowers – Manager of Fossey's Distillery and daughter of the Head Ginnovator, Steve Timmis. 
Next time we meet, I hope I have good news we can all catch up for a drink in the Distillery because it's open again. 
Chin chin & have a great week! 
Gin-Spired Blogger Girl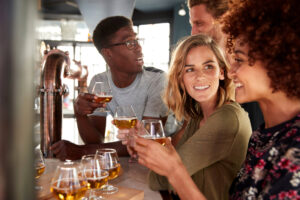 Fossey's are super excited to be part of the Sipafrolic event debuting March 3rd-5th 2023 at North Melbourne's iconic Meat Market venue! TICKETS NOW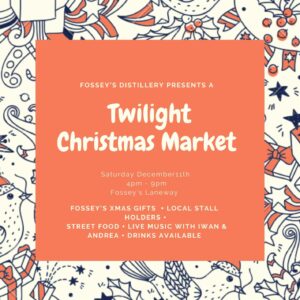 MEDIA RELEASE – Post COVID events starting to come back! Share on facebook Facebook Share on linkedin LinkedIn Fossey's Distillery presents their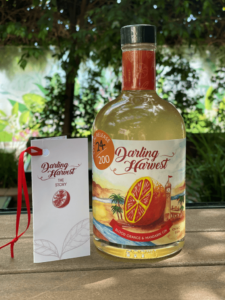 MEDIA RELEASE & Launch Invitation – Darling Harvest Gin Share on facebook Facebook Share on linkedin LinkedIn Mildura Community Water Bank Media